Front Range Pinocchios Restaurants and Delvickios in Superior & Broomfield… Serve up Love with Special Offerings, Free Delivery, and an Emphasis on Public Health and Safety during this trying time.
By, Kathleen Kimmel RN, MHA
3.22.2020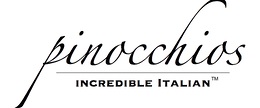 Longmont, Fort Collins, Loveland, Frederick, Niwot, Superior, Broomfield  CO— 03/22/2020
Cooks often equate food – creating and serving food – to love. In an effort to offer love and caring at a time when people are anxious and concerned about their health,  Front Range Pinocchios are serving up "comfort food" specials. Effective immediately Front Range Pinocchios restaurants and Delvickios in Superior (Broomfield for take out)  are offering free delivery and a Calzone Special. For a limited time, calzones are $5.00 each, garden salads are $1.00 each, and delivery is free. (There is a minimum of two calzones for the free delivery).
Keeping customers safe is a priority. Our restaurants are continuously monitoring and stringently following the FDA and State and local food safety guidelines FDA Food Safety. According to the US Food and Drug Administration (FDA), foodborne exposure is not a route of transmission for COVID-19. Despite the FDA assurances that restaurant food is safe, we are re-doubling our cleaning and sanitation efforts to control any risks. As has been our practice for years, any team member who has any type of illness stays home to protect co-workers and customers.
Annie Vick, CEO of Front Range Pinocchios and Delvickios comments. "We have been in the restaurant business for years and we are experts at disinfection and sanitization. Customers can order online or by phone and pay when they order. If they prefer to pick up their food versus delivery, we are happy to offer curbside take out and bring orders out for our guests. We are pleased we can remain open and are able to serve our community with delicious food to fill tummies, comfort souls, and warm hearts."
###
We appreciate your patronage. To enjoy the special offer or other menu items:
You can call l or text order to 720-352-4991    
Or call the location directly. 
Locations are listed on our website at Eatatpinocchios.com
Broomfield Delvickios is offering the special for pick up.